Interesting Links
This website, www.BritishMilitaryHistory.co.uk, has its focus on the British Army and British Indian Army from 1930 until 1956 in order to cover the Second World War, the build-up to the conflict and the immediate aftermath.
The aim of this website is not only to provide accurate, concise and interesting information about the main subject, but also to provide links to other websites that the user may find interesting, or may add additional information or perspective on a subject.
As the focus of this website is on the Army, links are provided to websites that cover the Royal Navy and Royal Air Force during the Second World War. The Second World War was an all arms conflict, and the role of the Royal Navy and Royal Air Force should be read in context with the relevant land campaign.
In addition, links are provided to other websites that the user may find useful.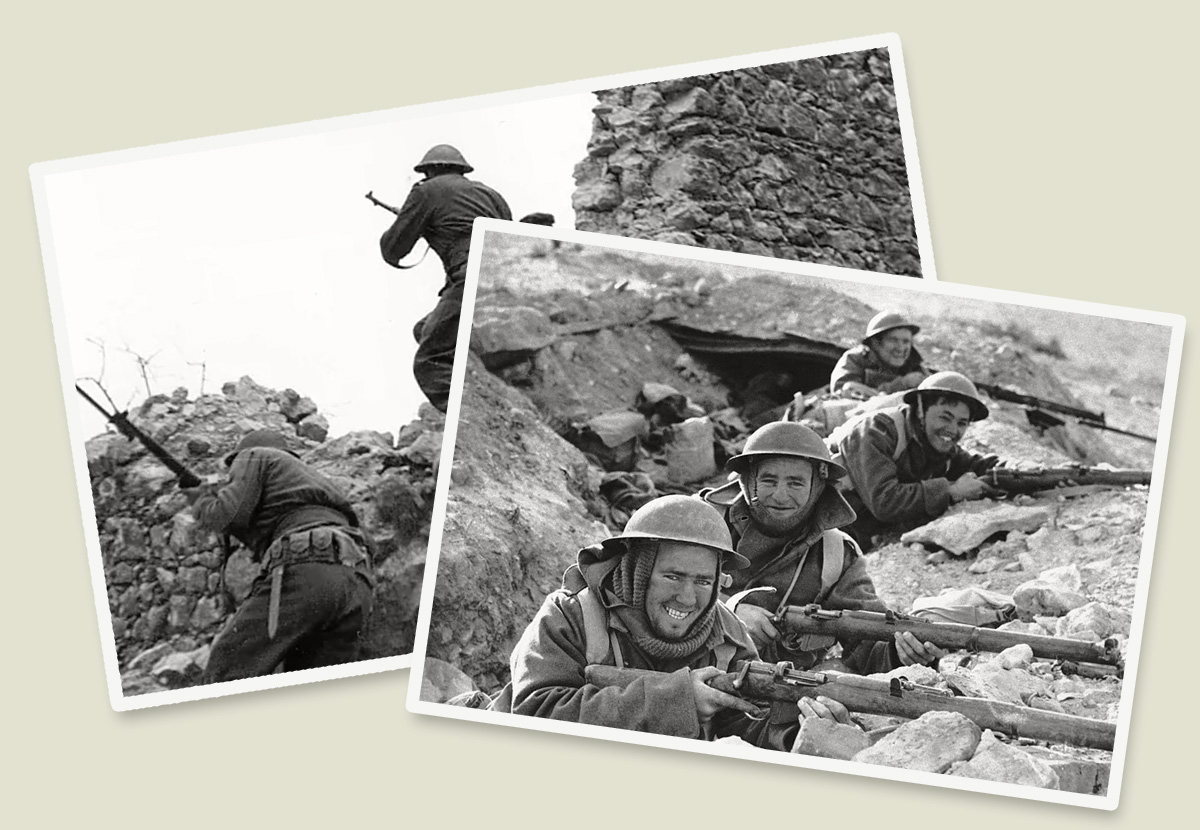 Family Service Records
One of the main questions I am asked is: how do I find out where my father or grandfather served, or which unit or regiment they served with?
The best place to start is to visit the website of the U.K. Veterans Agency. For a fee, application can be made to obtain a copy of your relation's service records. You have to show a family link with the person for whose records you are applying for, and sadly some soldiers records are incomplete or missing, however, unless you apply you will not know. The two links are below:
Commonwealth War Graves Commission
The Commonwealth War Graves Commission (C.W.G.C.) was established shortly after the First World War. Since then, it has developed into the organisation that cares for the deceased of the two World Wars.
I have had the privilege of visiting several cemeteries maintained by the C.W.G.C. in more than one country, and I have never failed to be moved by the immaculate state of the cemeteries, the loving care with which the workforce of managers and gardeners tend the cemeteries, and the moving experience of viewing the graves and memorials, not forgetting that each grave, and each name on a memorial, represents a real person who died in war.
For pictures of some cemeteries, please see the Facebook site linked to this website.
The C.W.G.C. website provides a superb search engine that allows aan enquirer to search on a number of parameters to locate a serviceman or women who died in the either the First World War or Second World War. The website also provides informative descriptions on the cemeteries.
For further information see:
www.cwgc.org
WW2 Connection
This comprehensive website offers many links to other relevant on-line sites covering the Second World War. In addition, it offers services such as book reviews and other information.
For further information see:
www.ww2connection.com
Royal Air Force Links
One of the reasons www.BritishMilitaryHistory.co.uk concentrate on the Army is that several good websites exist already that cover the role of the Royal Air Force during the Second World War.  Links to these websites are shown below:
Royal Air Force
The official site of the Royal Air Force, this website contains a very useful section on the history of the R.A.F.. This includes a timeline of the Second World War from a R.A.F. perspective, and a dropdown menu to view the history of every squadron that has existed in the R.A.F.
https://www.raf.mod.uk/
Wikipedia
This website is well known, and provides an overview of the involvement of the Royal Air Force in the Second World War. There are few links provided on this site, and other sites should be referred to for more detailed information.
wikipedia.org
207 Squadron(Royal Air Force) Association
This interesting website contains details of all the R.A.F. personnel serving with Bomber Command who died on active service during the Second World War, and brief circumstances regarding their death if known.
www.rafinfo.org.uk
Book Sellers
Please find below, some links to some selected book sellers, both new and secondhand, that you may find useful.
I have used most of these book sellers, but, the list below does not constitute any specific recommendation on behalf of www.BritishMilitaryHistory.co.uk. As in all cases when purchasing items, it is a case of a contract between the purchaser and the seller, and there is no liability on this website in respect of any transaction undertaken by any person, whether or not it came about through this website.
This website is affiliated to:
Pen & Sword Books (Military and Aviation)
A major publisher on all apsects of military history.
https://www.pen-and-sword.co.uk/
Naval & Military Press
A major publisher on all aspects of military history.
www.naval-military-press.com
Turner Donovon Military Books
Sellers of secondhand, rare and out-of-print military books.
www.turnerdonovan.com
Pentagon Press
Publisher of the series of eight reprints of the Official History of the Indian Armed Forces.
www.pentagonpress.in
Museums & Collections
These links do not in any way place any liability on www.BritishMilitaryHistory.co.uk, as each link is provided for the assistance of users of this website, but, does not convey any responsibility for the contents of the linked website, nor any product or service that they may offer.
Kohima Museum
While I intend to cover all the various campaigns, I make no secret of my particular interest in the Second World War in South East Asia or the Far East. This includes the campaigns in Burma from 1941 until 1945, Malaya 1941 to 1942, Hong Kong (1941) and the Netherland East Indies (1941 to 1942 and 1945 onwards). To this end, I am delighted to be associated with the Kohima Museum in York, the home of the 2 Infantry Division. This is the only museum in the U.K. focused on the Second World War in this region. For further information see:
www.kohimamuseum.co.uk
National Army Museum
Another museum that people may be interested in is the National Army Museum in Chelsea, London. I have visited the museum more than once, and always find something new and interesting. For further information see:
www.nam.ac.uk
2nd Devons Living History Group
A living history group that re-enact the 2 Bn. The Devonshire Regiment during the Second World War. Very authentic and friendly group, well worth meeting them, and also very educational.
www.2nddevons.com
Cobbaton Combat Collection
A private collection of military vehicles and militaria housed at Cobbaton, near Barnstaple in North Devon. Well worth a visit if in the area.
www.cobbatoncombat.co.uk/
Aldershot Military Museum
As its name suggests, this is a small museum located in part of the former North Camp of Aldershot garrison. The museum is run by volunteers, but the website is run by Hampshire County Council. The website contains useful information on the history and development of Aldershot as a military garrison.
http://www3.hants.gov.uk
Malaya & Singapore
Please find below some links to websites that focus on the 1941 and 1942 campaigns in Malaya, Singapore and Netherland East Indies.
FEPOW Community
An excellent website that covers the various aspects of the Far East Prisoners of War community. Many very moving individual and group stories. In addition, this website has a role of honour to those who died in the war.
www.fepow-community.org.uk
Roll of Honour
This is a direct link to the Roll of Honour website, that lists all those who died at Singapore, or whilst trying to escape or died in captivity. See:
www.roll-of-honour.org.uk
Singapore Evacuation 1942
A blog site covering the Singapore evacuation and associated topics.
www.singaporeevacuation1942.blogspot.co.uk
Support for Veterans
One of the pleasing developments over the past decade has been the increasing support for former service personnel, or veterans. There are now several charities that support veterans in many different ways.
As the situation evolves rapidly, I have decided against posting any specific links from my website, as a general internet search is far better at bringing up relevant websites.